DENTAL EXPERTS clinic by Prof. Dr. Bratu is active since 2008 in a building built from scratch specifically for the sole purpose of a dental clinic.
Bratu family, reached the third generation of doctors who have always used their resources for the benefit of the community so as to improve the health of others. With over 80 years of experience in the medical field, and over 50 years in dentistry, Prof. Dr. Dorin Bratu – prosthetician and implantologist and Dr. Elizabeth Bratu – orthodontist, were for many years the head of their respective departments at Victor Babeş Medicine and Pharmacy University of Timişoara.
Prof. Dr. Emanuel Bratu is the leader of the prosthetic implant restorations department of UMF Victor Babeş Timişoara and Dr. Bratu Cristina continues the rich tradition in orthodontics.
After an investment of over 600,000 euros, we managed to built on an area of about 1000 square meters a modern and high-end clinic, which matches the standards of any top clinics around the world. The clinic is equipped with the latest technological equipment including a dental laboratory and a complete, fully operational radiology center which includes a cutting-edge CT scanner. We proudly managed to gather a team of specialists, including five academics, who we are certain that can deal any aspect of modern dental treatments with the most quality and professionalism. A material investment is meaningless without a human one, so our doctors are constantly training and taking up numerous courses and conferences both national and abroad for the purpose of maintaining their status as high-end specialists.
Inside our clinic operates DENTAL EDUCATION CENTER, where we also form other specialists in the dental medicine field and to which  we offer our knowledge and top of the line techniques by using a direct and applied methodology. Our dental laboratory benefits from the presence of   master technician and modern top of the line equipment that can handle the latest dental technology available today. The first endobone implant inserted in the Banat in 1975, the first metal-ceramic prosthetic procedure after 1989 in Timisoara, first private practice office in Timisoara after 1989, over 5000 implants inserted in the last three years, the CT scanning center and the Lava 3M zirconium  milling center, unique in Romania, are some of the reasons that brought our clinic among the top high-end dental clinics in Romania.
The health of our patients is very important to us and that is why, we provide the best conditions for instruments sterilization.
After each dental treatment, sterilization is performed and also on all instruments that came in contact with the patient. Sterilisation is very important as it is designed to remove all types of pathogens that can have harmful effects on the patient's health.  We have the best conditions, proper sterilization and we respect all European Standards.
Autoclaves used in our clinic follow the  latest international standards and have passed all sterilization conditions.
each sterilization cycle is monitored by a digital electronic system and  allows a permanent control.
sterile instruments are kept in special bags
dental units are provided with sterile water
all products used are disposable supplies
Our goal is to build  a trust-based  relationship with our patients and to offer them the joy of perfect smile! – Prof. Dr. Emanuel Bratu, 2008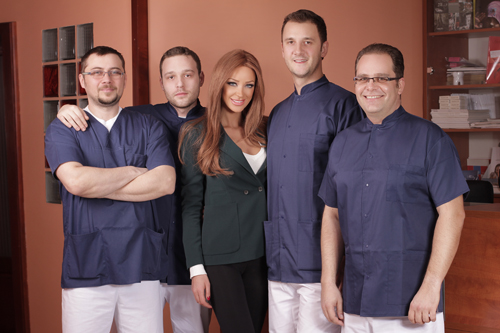 Show All
Cabinets
Dental Laboratory
Dental SPA
Logistic
Radiodiagnostic
[KGVID poster="http://dentalexperts.ro/wp-content/uploads/2013/11/poster.png" width="1280″ height="720″]http://dentalexperts.ro/wp-content/uploads/2014/03/dxvideo.mp4[/KGVID]
History and Tradition
"From tradition, stability is born, from unity, power is born." – Victor Hugo
It is true that history is nothing without tradition. In our clinical experience, clinical cases and treatment methods are discussed and analyzed by many experts.
Bratu family has reached  the 3rd generation of doctors
80 years of  experience
Modern Investment of approx. 600,000 euro
Continuous Improvement